I have been mooning around in the Newbie section, asking countless questions and receiving the benefit of much wisdom.
I have now got my first ever tank up, running and cycling. I am still very much a newbie, but thought that now it is all running I should start a tank log.
My goal with this is really to make something beautiful as well as learning how to keep fish and create aquascapes. I kept seeing pictures of lovely aquascapes on the web and of course the more I looked at them, the more they kept popping up. Google is quite scary sometimes. But it did make me wonder if I could do that, so I took the plunge. I do a lot of Zoom calls from home at work and I thought that a gorgeous aquascape as a backdrop would be quite neat.
Anyway....some information about me. I used to be an engineer but ended up in management of technical businesses. I love the high tech approach to everything even if it isn't justified. I always overthink things, plan in detail and I guess I am pretty anal/OCD....
But going against those lines, I happened to be driving past a garden centre the other day that had a "World of Water" franchise, so on impulse I stopped to see if I could chat with someone. Error, I know....but I did end up impulse buying an Aqua One 130L Horizon tank as I thought it had quite clean lines aesthetically. In hindsight, had I researched this some more, I would have gone for something with even cleaner lines, but it will be just fine for now.
I also ordered some substrates and bits that they didn't have in stock. Got home and started thinking about design and it came to me that I didn't want a blocky filter or heater in my tank. Minimalist approach would be the way to go. Too much red wine, online shopping and YouTube reviews and I ended up as the owner of an Oase Biomaster Thermo 350, some Biohome media etc.... I used to be a home brewer, so I had CO2 bottles kicking around, so CO2 injection became not just a good idea, but mandatory.
Day 0
As of yesterday, all of the bits were here, including plants from aquariumgardens.co.uk who seem to be excellent to deal with. I also found a fairly local non-chain aquarium shop and had a good chat with them and bought some more bits. They seemed much more knowledgeable than World of Water, so I shall be going back there but will try more to get knowledge from this group and buy stuff more directly. Other stuff including rocks, driftwood etc, came from various online sources.
So I spent yesterday afternoon, evening and night getting everything set up, plumbed in, hardscaped and planted. I probably should have done this over a few days but I am impulsive and am going away for a week on Saturday, so I wanted to get it started cycling before then.
Here's the setup that I put together:
In hindsight, it's probably a bit cluttered and with too many plants.....but hey ho. The plants thing can always be remedied later seeing how they grow in. I wanted to make a layout that had carpeted "hills" on the sides, and a path leading down to a "beach" at the front. I think I have got that, and the driftwood that runs all the way across the tank also creates a little arch leading down to the beach that I hope fish will eventually swim through. The rocks are probably too big, but they are what I had and hold the driftwood down as it was still floating after a couple of nights in the bath.
I filled the tank with tap water, which took forever as I didn't want to disturb the hardscape, added some dechlorinator, turned the heater on and went to bed at 1.30am...
Day 1
I came down this morning and all looked good. The water had cleared down a bit overnight and all was looking OK. No leaks, no fires and my dogs hadn't destroyed it. I did some water testing (ph 6.8, ammonia 0, nitrites 0, nitrates 0) and then added 5.4ml of ammonia which brought it up to 4.0mg/l. Off to the races we go.
The CO2 regulator I had ordered (dual stage, single gauge FZone mini) arrived, so I got the CO2 up and running. As I write this, the drop checker shows a nice green colour , maybe, just maybe beginning to head towards yellow - although only if I squint at it. So I have just turned that down a gnat's ball hair and will keep an eye on it.
Lights and CO2 are all set up on a smart timer with app control and scheduled for 10 hours per day. I may turn this down by an hour or two while I am away.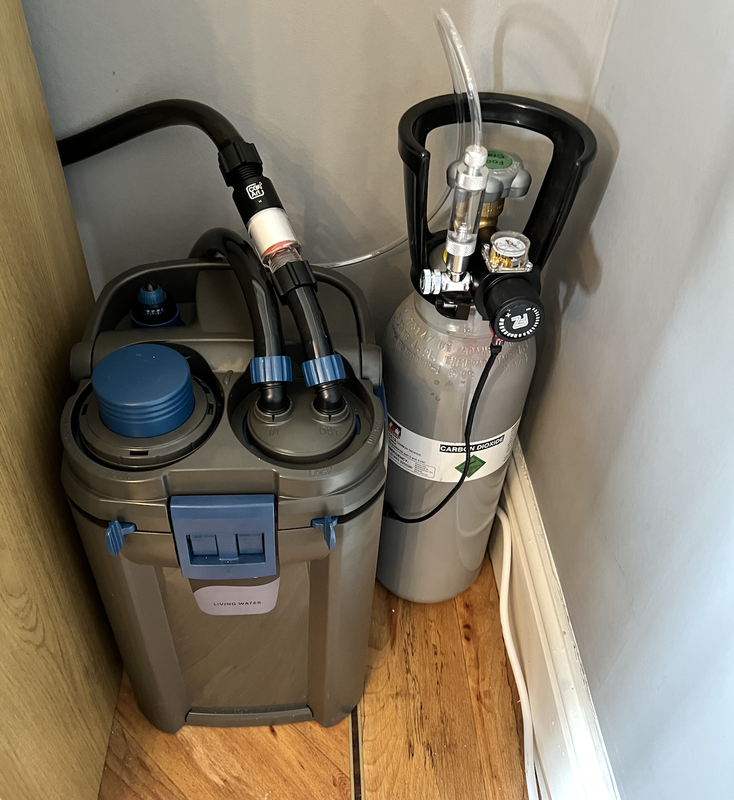 So that's where we are. Day 1 of a new tank. All seems to be progressing according to plan. Some of the plants are pearling oxygen and nothing has obviously died yet.
Fun so far. Now I have to wait and read up about what fish to stock it with.
I am thinking maybe eventually a cleanup crew of Amano Shrimp, a Bristlenose Pleco and maybe some Clithon snails (although I am bit worried about snails). I'd like to get ahead of the game on algae - so may also add a UV steriliser.
As for the rest of the fish, no real idea. Maybe a pair of Honey Gouramis, some neon/shiny Tetras of some kind or other and some Zebra Loaches? I want to keep the fish kind of minimalist as well, yet colourful and diverse. Definitely smaller fish rather than larger. Any thoughts appreciated...
Cheers (and sorry for the rambling preamble in this Log),
Al