These (Borneo Redline Halfbeak) were on my original stocking list when I reset my tank that I call 'Guilt', six years ago. I couldn't find a supplier for them then or since ... until about three weeks ago. I was/am
so
excited!
During the 'lockdown' thing I'd fallen into a bit of a torpor as regards fishkeeping matters. Suddenly I was back! Recently I decided to resist putting further stock into Guilt, with the goal of eventually replacing the tank itself. I'd like to play with its planting a bit, which I'm going to do very soon, but other than that I'm trying not to fiddle with it!
Instead I thought I could put some in Hoy 2. I ordered half-a-dozen to see how they'd get on before perhaps increasing their number. The water was already OK for them but according to sources there might have been insufficient surface cover and too great a current.
I had Salvinia (floating plant) corralled in two floating pond rings, so I removed those and added some more Salvinia. I created a patch of still surface water at one end of the tank for them to mooch around in but kept the surface agitation going at the other end. The upwardly-pointing outflow from a small internal filter there creates an area free of Salvinia. It's at the far end in this pic :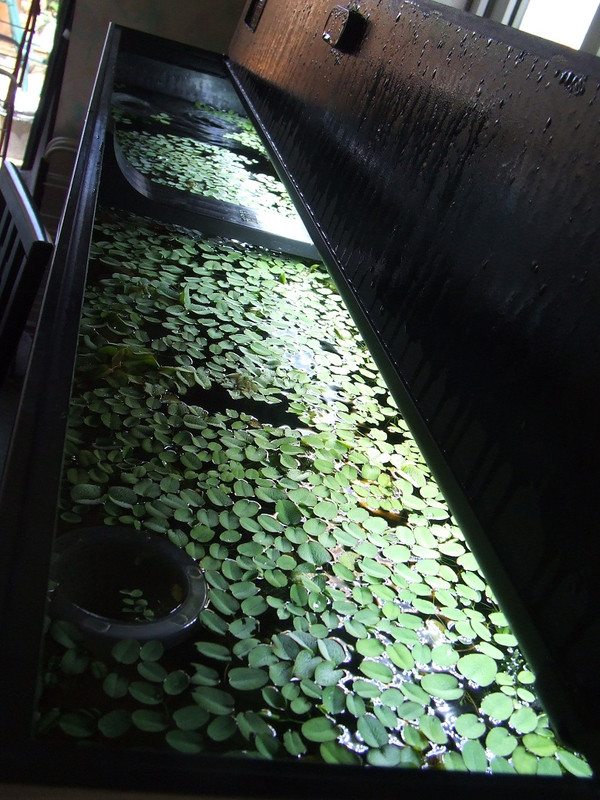 The fish arrived and were installed a few days ago. Following the first day settling down, of course they have all determinedly congregated in the patch of Salvinia-less and relatively turbulent water! So I've renamed them : Hemirhamphodon
tengah
var.
perversus
!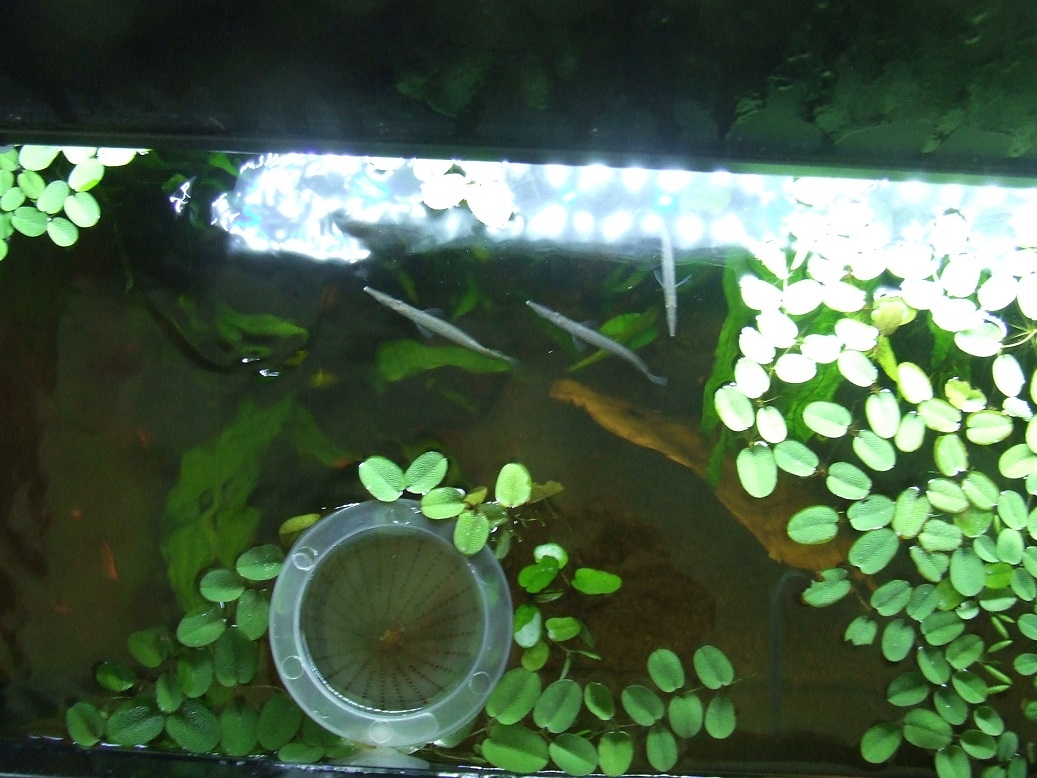 I'm feeding springtails, Daphnia and crunched up flake or granules, all of which they take readily. Very funny to see them identify a bit of food, swim underneath it and keep swimming. Just when you think the food has been missed or ignored, suddenly it disappears.
These fish, unlike other halfbeaks, lay eggs. They also have quite an involved mating dance which I hope to be able to see sometime. Anyway, crossing fingers that they'll be happy at Vale! Towers.