Juwel Lido 120 LED
(breeding tank but temporary occupied)
Description:
Dimensions 61 x 41 x 58 cm (120L)
Juwel MultiLux LED / lighting 2 x 12W LED
Juwel Bioflow M / internal filter system
Juwel AquaHeat 100 W heater
Wednesday September 16, 2020
I placed the order for the new Juwel Lido 120 & cabinet
Friday September 18, 2020
New aquarium has been pallet dropped at my home.
I put the cabinet together, with the wife's help.
Saturday September 19, 2020
The new aquarium has been positioned on top of the cabinet.
I have to set it up properly and add substrate etc.. won't be until next week though.
I am still contemplating whether to use the internal filter or add an external filter.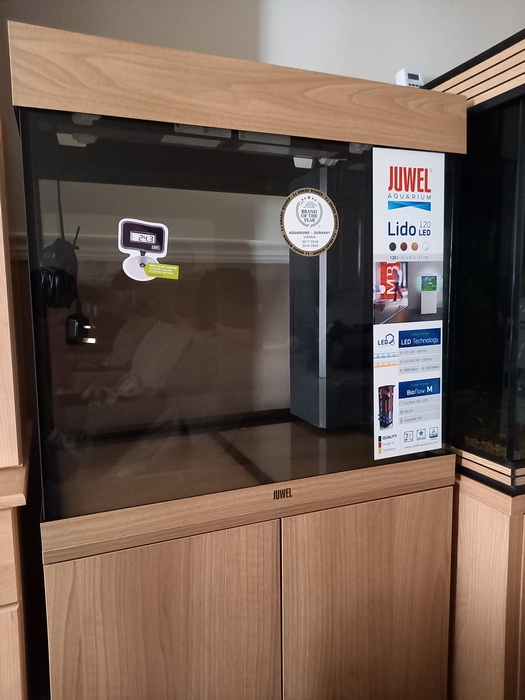 I have just ordered Tropica plant substrate, Unipac Samoa sand and several plants for the new Juwel Lido 120 LED, should be here soon.
Wednesday September 23, 2020
Just fixed a 4-way extension lead to the wall above the aquarium.
It is an individually switched, surge protected extension lead.
I have also a digital timer socket plugged in ready for the lights.
Friday September 25, 2020
I have painted the background matt black using blackboard paint.
Nice and neat with no bumps or lumps.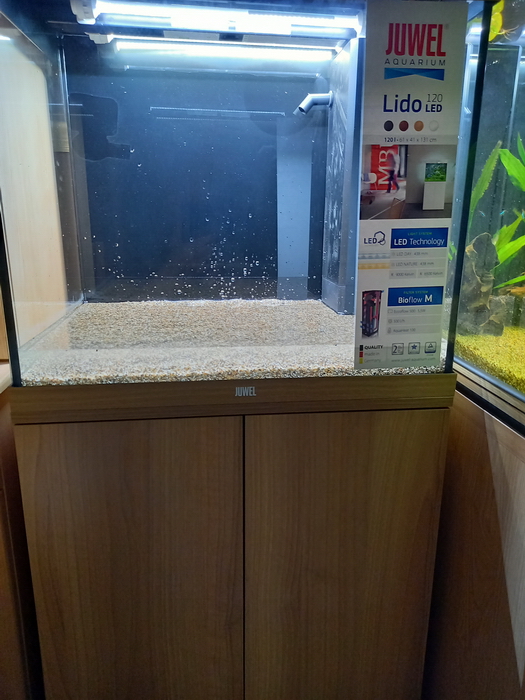 Saturday September 26, 2020
I have set up the Juwel internal filter and added established media taken from my established external filters. I will use the internal filter for the time being.
Tropica plant substrate is in, mainly at the rear, nice 1 cm deep.
Sand is also in, deeper at the rear.
I have taken a piece of bogwood from my big aquarium and have planted the new plants.
It should look fairly good in a few weeks when the plants get established.
Sunday September 27, 2020
I done a major clean of my big 550L aquarium.
At the same time I caught the 9 x Corydoras trilineatus plus 2 x Corydoras elegans and 15 x neon tetra and put them in the new Juwel Lido 120.
The Juwel filter has established media and I have also dosed the aquarium with Seachem Stability.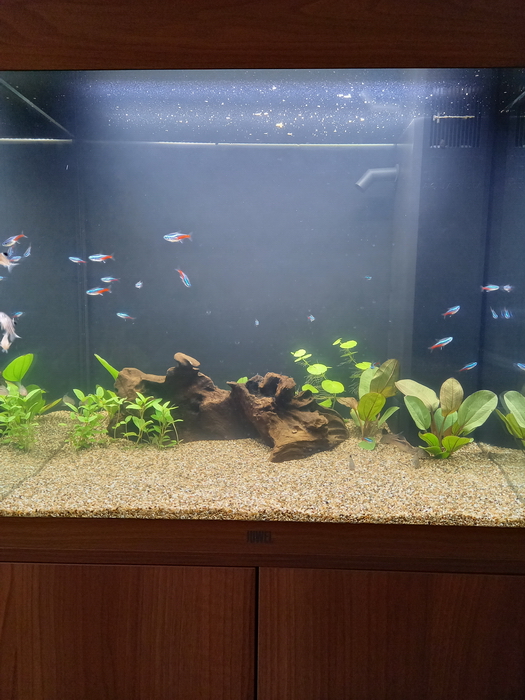 Monday September 28, 2020
Attached some nice T-bar door handles, same as on the big aquarium, so all match.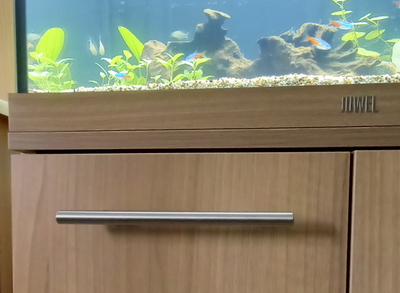 More to come ...