Martinspuddle

wrote:

↑

Sat Sep 04, 2021 11:36 am

What the current back log of imports there's probably very little wild stock being imported at the present time and much of it that does will be going to the European continent, usually Rotterdam.
Fish are coming through from south America in dribs and drabs.
To get space on a plane comes at a premium which puts the prices up, so they get less priority.
I have seen some of the fish from my Rio Negro list at LFS. Cardinal tetra and Rummy-nose tetra (Hemigrammus bleher) are readily available.
Corydoras are hit and miss at present but at least I have alternatives if I go with the Rio Negro theme.
Aqualife Leyland have Corydoras duplicareus and the like such as C. burgessi, C. davidsandsi, C. imitator etc.. so I have options and availability.
I can not find Corydoras amandajanea but again I can go with C. melini, C. crimmeni (gorgeous), C. nijsseni, and others as alternative options.
The Corydoras duplicareus (or the like) and the Cardinal tetra will provide the extra colour that I am looking for.
I can also swap out the Rummy-nose tetra for a smaller shoal of Bleeding-heart tetra, I have more options with the Rio Negro theme.
Corydoras duplicareus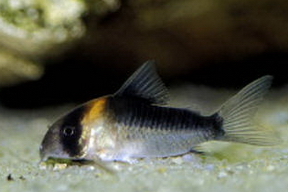 Corydoras amandajanea